« Shows & Personalities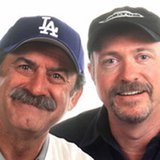 The Bob and Tom Show
On Air:

Weekdays, 5am - 10am
About the Show

With a foundation built around comedy and talk, The Bob and Tom Show features news, sports, lifestyle content, and interviews with today's top actors, authors and newsmakers. It began national syndication in 1995 from its flagship station in Indianapolis. The show is also America's leading media outlet for the best and developing comedians on the circuit. More than just a comedy show, Bob and Tom also feature live performances from singers, songwriters, and musicians coming from all genres of music.

The show has won five Marconi Awards…the absolute highest award in radio from the National Association of Broadcasters. The Bob and Tom Show has released well over 50 comedy CD's and DVD's. The show also has produced specials for Comedy Central and present live comedy concerts nationwide via The Canadian Mist Bob and Tom Comedy All-Stars. The Bob and Tom Show is now heard on over 150 radio stations from coast to coast.

Show parodies, songs, bits, and more are produced by a large staff of writers, musicians, artists, performers, and misfits. Let's briefly meet some of them here:

BOB KEVOIAN: Born in Los Angeles and graduated from Cal State Long Beach. Bob toured extensively with theater groups and began his radio career in Northern Michigan in 1979 where he met Tom and headed to WFBQ in Indianapolis. Bob is the one in the LA Dodger cap.

TOM GRISWOLD: From Cleveland, Tom attended Columbia University. After a radio stop in Florida, Tom hooked up with Bob in Petoskey Michigan and formed the morning team which eventually came to Indianapolis in 1983. Tom is the one not wearing the LA Dodger cap.

CHICK MCGEE: Born in London, Ohio. Chick began his broadcasting journey in West Virginia but eventually made it to WFBQ's sister station in Indianapolis. When they had enough of him, he came on the Bob and Tom Show to do sports, take on announcer and commercial duties and assume the role of the one and only Mr. Obvious.

KRISTI LEE: Kristi joined the show in 1984 as News Director. Kristi is a native of Indianapolis and attended Indiana University. She has also worked in television with Fox Sports and ESPN.