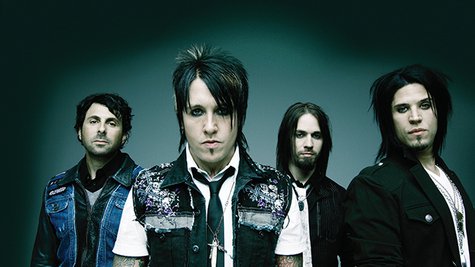 Papa Roach 's next album won't hit stores until 2015, but there may be another release from the band before that. Guitarist Jerry Horton has something in the woprks, but it's not a musical piece, it's a book of photography. In a just-posted interview from the England's Reading Festival, Horton says that a book of his photography is "in the works."
Horton says he was convinced to compile his snaps because "other people have said that they really love it." His own opinion is a little lower: "Me, I'm my own worst critic, and I'm thinking, 'Well, I don't really think this stuff's good enough to put a book out.'..[but] somebody within our camp said, 'You need to do something with this stuff."
Jerry Horton's photographic eye ranges near and far, he says. "I enjoy photography on an amateur level and being fortunate enough to travel everywhere, I wanna take advantage of it. I don't necessarily have any sort of focus on any one particular thing; I just shoot whatever strikes me… landscapes, portraits."
As for the new Papa Roach album, tentatively called Face Everything and Rise ( F.E.A.R. ), that's scheduled for an early 2015 release.
Follow @ABCNewsRadio Copyright 2014 ABC News Radio