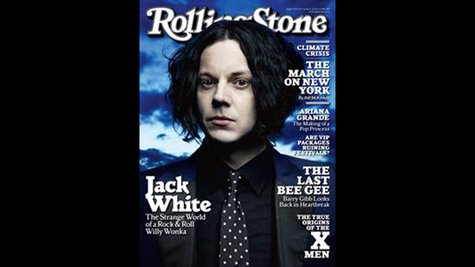 There were a number of misconceptions about the relationship between Jack White and Meg White of the White Stripes . Some people believed the pair were siblings, a fallacy reinforced by both parties. Others believed they were best friends or husband and wife. The latter was the truth. Jack and Meg were married from 1996-2000, but stayed together as a band until 2011.
Anyone who reads what Jack has to say in the new Rolling Stone won't be surprised both the couple and the band broke up.
Jack says that Meg's quiet persona, which often resulted in her saying almost nothing during band interviews, carried over into all aspects of her life. Eventually, Jack says, it left him feeling unsupported and resentful. " She's one of those people who won't high-five me when I get the touchdown," he said. "She viewed me that way of 'Oh, big deal, you did it, so what?' Almost every single moment of the White Stripes was like that. We'd be working in the studio and something amazing would happen: I'm like, 'Damn, we just broke into a new world right there!' And Meg's sitting in silence."
Jack White says sometimes that feeling escalated into feeling isolated even in the company of his band mate. He says, " I remember hearing Ringo Starr say, 'I always felt sorry for Elvis , because in the Beatles we had each other to talk about what it felt like. Elvis was by himself.' I was like...'Try being in a two-piece where the other person doesn't talk!'"
Jack says Meg "has always been a hermit. When we lived in Detroit, I'd have to drive over to her house if I wanted to talk to her, so now it's almost never."
Check out the entire Jack White cover story, including his admission that he used digital editing on his new album, Lazaretto, in the current issue of Rolling Stone , on stands now.
Follow @ABCNewsRadio Copyright 2014 ABC News Radio