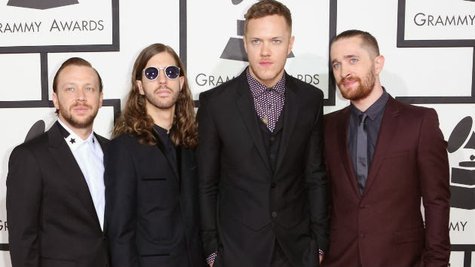 Over the past year and a half, Imagine Dragons has gone from being a Las Vegas bar band to being one of the biggest acts in the world, with a Grammy to their credit and the record for the longest-running single in the history of the Billboard Hot 100 chart under their belt. The band's reaction to these experiences will be addressed in their much-anticipated sophomore album, says frontman Dan Reynolds.
"A lot of it was written while we were on the road touring, and going through all these crazy changes, of being a small bar band to playing a lot bigger shows," Reynolds said backstage at the Billboard Music Awards this past weekend. "And so, I think a lot of that has been kind of entwining into the album, and so it has a lot of emotion, kind of highs and lows that come with that and the overwhelming-ness of that."
The band members thought they weren't even going to have time to get started on the new disc, what with their busy touring schedule, but drummer Daniel Platzman said that the band is hard at work in their Las Vegas studio, "plugging away, and looking forward to getting back to work." In fact, they even worked on the album the morning of the Billboard Awards, where they performed and took home five trophies.
Imagine Dragons' hit-packed debut, Night Visions, featured a wide range of songs, from "Demons" to "It's Time" to "Radioactive," but Platzman says the new music they're making now isn't a big departure from their core sound.
"It definitely still sounds, you know, like Imagine Dragons," he said at the Billboard Awards. "But we're maturing, you know, we're definitely growing." He notes that their new life as an in-demand touring band is affecting the music as well.
"We've been writing on the road, so the demos that we wrote at the beginning of the tour compared to the end definitely sound different," he explained.
There's no planned release date yet for the new album. Imagine Dragons still have a slew of European festivals on their schedule from June through the end of August, and will be performing everywhere from Sweden to the U.K. to Portugal before they're done.
Follow @ABCNewsRadio
Copyright 2014 ABC News Radio