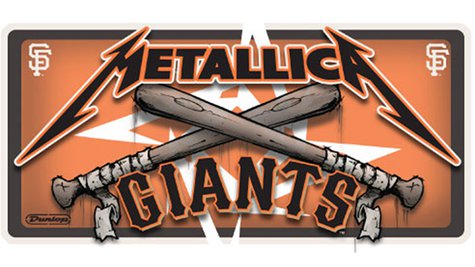 If you aren't able to make San Francisco Giants' Metallica Night on Friday, you can still help out a great cause and get yourself some 'tallica gear in the process.
On its official Facebook page , Metallica has offered fans the chance to "bid on some really cool autographed items" to benefit a kids' charity . Clicking thew link takes you to a webpage with Giants jerseys signed by the band, as well as similarly-signed baseballs, bats, photos and other sweet swag. The proceeds from all of these items -- as well as the guitars that James Hetfield and Kirk Hammett will be playing at Metallica Night -- will go to the San Francisco Giants Community Fund and the Bay Area Chapter of Little Kids Rock .
Fans lucky enough to attend the second annual Metallica Night -- where the Giants play the Florida Marlins -- will take home an exclusive Metallica/Giants-themed inflatable guitar and a set of guitar picks featuring cartoons of the Metallica guys wearing Giants uniforms, in addition to the thrill of watching James Hetfield sing in a Giants jersey.
A very limited tickets are still available on the Giants' website .
Follow @ABCNewsRadio
Copyright 2014 ABC News Radio