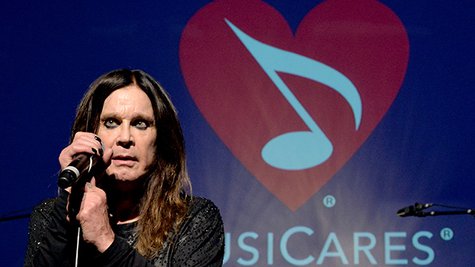 Ozzy Osbourne was honored Monday night by the MusiCares organization for what it says is the rocker's "commitment to helping others with the addiction recovery process."

Ozzy was presented with the group's Stevie Ray Vaughan Award at the 10th annual MusicCares MAP Fund Benefit Concert at Club Nokia in Los Angeles.
Joe Walsh presented Ozzy with the award. In his presentation, Walsh described himself as a "fellow traveler down the long road of sobriety."
In his acceptance speech, Ozzy expressed gratitude for the honor and told the audience that when he first learned he was getting the award, he asked his wife [ Sharon ], "Was I really that bad for all those years. Now they're going to give me an award for staying sober?"
The MusiCares MAP fund provides financial aid and support to music industry professionals who are struggling with health and addiction issues.

Ozzy has fought a public battle with addiction for decades. He's undergone drug rehab and periods of sobriety multiple times; he last admitted falling off the wagon in April 2013 in a Facebook post, but has reportedly been sober since.
MusiCares is a foundation of the National Academy of Recording Arts and Sciences -– the Grammy people. Neil Portnow , the president of NARAS, was asked on the red carpet why the organization chose to honor Ozzy. Portnow said Ozzy is "an iconic musician. He's somebody that millions of people know, love and respect. And what's amazing about Ozzy is that he recognizes his demons and he continually tries to be living a sober life." Portnow added that Ozzy is "always there trying to do better."
The evening was hosted by Parenthood actor Dax Shepard and included performances from Metallica , Ozzy's Black Sabbath touring band and special guest guitarists Dave Navarro , Billy Morrison and Slash .
Metallica performed four songs, including The Beatles ' "In My Life." James Hetfield exclaimed "We love you, Ozzy" a couple of times between songs.
Follow @ABCNewsRadio
Copyright 2014 ABC News Radio