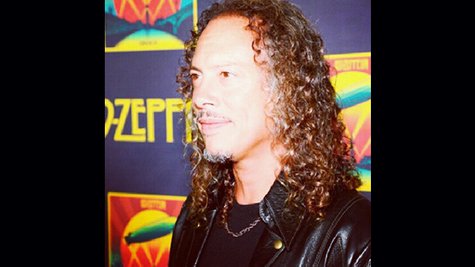 Nothing goes together like Metallica and your great-great-grandmother's music, right? Giving new meaning to the term "old school," Kirk Hammett has recorded a version of "Daisy Bell" -- more commonly known as "Bicycle Built for Two."
The Metallica guitarist is one of a number of musicians in a variety of genres who all collaborated with artist Mark Ryden on a limited-edition album which features them all singing the same song. Written in 1892, "Daisy Bell (Bicycle Built for Two)" is also sometimes known as "Daisy, Daisy." You may remember it from the movie 2001: A Space Odyssey -- it's the song the supercomputer, HAL 9000, sings just before he shuts down.
Now, you can hear Kirk Hammett's slow, bassy instrumental version of the song on Ryden's official YouTube channel.
The album, called The Gay Nineties Old Tyme Music: Daisy Bell , features Mark Mothersbaugh , Nick Cave , Everlast , Weird Al Yankovic and others all singing "Daisy Bell." It's part of Ryden's current exhibit, "The Gay '90s," which is on view now at the Kohn Gallery in Los Angeles. There are only 999 copies of the vinyl disc available -- at $99 each -- and proceeds from sales of the discs are going to benefit Little Kids Rock, which supports musical education in schools. The album will be available on Ryden's website starting on Tuesday.
Follow @ABCNewsRadio
Copyright 2014 ABC News Radio