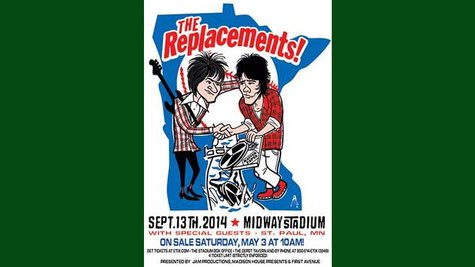 Billie Joe Armstrong once again joined his heroes onstage this past weekend. During The Replacements ' set at the Shaky Knees Festival in Atlanta, Georgia, the Green Day frontman came onstage to help out on guitar and vocal duties. This marks the second such occasion for Armstrong -- he played with the Replacements' during one of the band's two Coachella shows last month.
The Replacements recently announced their first headlining show in more than 20 years, to be held on July 4 in their old stomping grounds of Minneapolis. Though the band has played a few select festivals this year, the Minneapolis show will mark the Replacements' first full headlining show since just before their breakup in 1991, a gap of more than 23 years. Their last full-on toplining show was on the Fourth of July 1991 in Chicago's Grant Park -- a free show that attracted more than 20,000 fans.
Tickets for the new show sold out quickly, but can be had on the secondary market.
Follow @ABCNewsRadio Copyright 2014 ABC News Radio