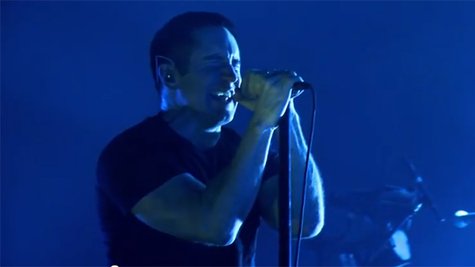 Could it be that having two young children has made Trent Reznor more nurturing? That'd be one way to interpret a statement he made to the U.K.'s Metro , in which the Nine Inch Nails singer said that he'd like to be involved in the choices of food being offered to his fans at concert venues.
Reznor -- who has two sons, ages 2 and 3 -- says that these days, he's all about trying to make sure his fans have the best possible experience at a Nine Inch Nails show. "If you're going to dedicate an evening of your life to coming to see me," he said, "then I'd like to think about as many aspects of that as I can."
Reznor took it a step further, saying, "If I could be involved with the food vending, I would! Particularly in this day and age, when there are so many options to dedicate your attention to. If I'm going to have you for an evening, then I want to deliver on all fronts."
Nine Inch Nails are set for a U.S. co-headlining tour with Soundgarden this summer. Reznor says fans who come see multiple shows can expect a different experience each time. "This incarnation of the band could play some 50 different potential songs," says Reznor. "Every night we try to make it different. So one night might be a heavily electronic-based set, the next it might be all violently aggressive noisy rock."
The Nine Inch Nails/Soundgarden tour kicks off on July 19 in Las Vegas.
Copyright 2014 ABC News Radio