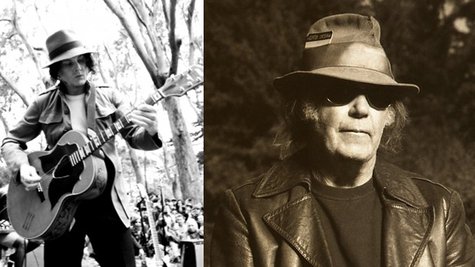 Prior to landing the hosting gig at The Tonight Show , Jimmy Fallon got a lot of laughs whenever he did his spot-on Neil Young impression on NBC's Late Night .
This is no joke: The original will be crossing paths with the impersonator on Monday night, when Young appears on Fallon's talk show, the show announced on Friday.
Consequence of Sound reports that Young will perform and be interviewed by Fallon. Joining Young for the session will be fellow singer-songwriter Jack White. The former White Stripes leader guests on and co-produced Young's forthcoming album, A Letter Home , which was recorded on a 1947 Voice-o-Graph recording booth that's located at White's Third Man Records store in Nashville. The device allows the user to record a song directly onto a vinyl disc. A Letter Home features covers of material by Bruce Springsteen , Bob Dylan and others.
The Tonight Show Starring Jimmy Fallon airs weeknights at 11:34 p.m. ET and PT on NBC.
Copyright 2014 ABC News Radio