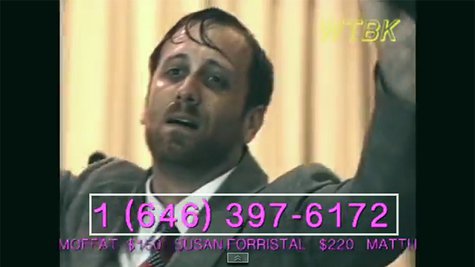 Why wait? That must be the thinking of The Black Keys , who've made their entire new album, Turn Blue , available for streaming now, a full week ahead of its release date.
All eleven tracks are available, including "Fever," which was released as an official video last week. In the clip, frontman Dan Auerbach takes to the pulpit as a televangelist preaching to a fervent congregation while a list of call-in donors scrolls across the bottom of the screen.
The Black Keys made an appearance last week on the BBC's Radio 1 , during which they debuted the new track "Bullet in the Brain" as part of an in-studio session that also included versions of the previously-released tracks "Fever" and "Turn Blue." The BBC is streaming the track on its official YouTube channel .
The hard copy of Turn Blue will hit retail outlets on May 13. The Black Keys will perform on Saturday Night Live this weekend, May 10.
Here is the track listing for Turn Blue :
"Weight of Love"
"In Time"
"Turn Blue"
"Fever"
"Year in Review"
"Bullet in the Brain"
"It's Up to You Now"
"Waiting on Words"
"10 Lovers"
"In Our Prime"
"Gotta Get Away"
Copyright 2014 ABC News Radio