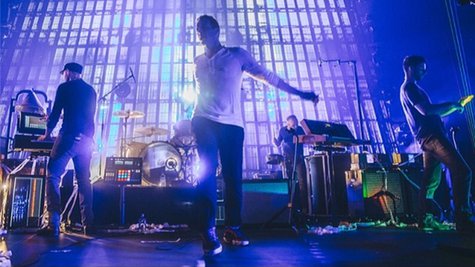 t Monday night's show in New York City, Coldplay dedicated one of the band's songs, "Fix You," to Mick Jagger .
The song -- from Coldplay's X&Y album -- was originally written for Chris Martin 's soon-to-be-ex-wife, Gwyneth Paltrow , when her father died, and is the most poignant song in Coldplay's catalog. While the instrumental introduction began, Martin said simply, "It's for Mick Jagger."
Martin and Jagger of course are fellow Brits, and the Stones singer just days ago paid tribute to his late girlfriend, fashion designer L'Wren Scott , who committed suicide in March. The two were together for nearly 13 years.
Coldplay's new album, Ghost Stories , is due in retail in digital outlets on May 19. That same day in the U.K., Sky 1 will broadcast an exclusive concert filmed in front of 800 fans in what the TV channel describes as a "custom built amphitheatre." American fans won't be able to tune in, but it's likely that the show will turn up on YouTube shortly thereafter. The set list for the broadcast includes all nine songs from the new album, as well as "Viva la Vida," "Paradise," and "Clocks."
U.S. fans will have to settle for Coldplay: Ghost Stories , which is being billed "a groundbreaking primetime special based on the band's forthcoming album." It's scheduled to air on NBC on Sunday, May 18 at 7 p.m. ET/PT.
You can watch a trailer for Coldplay: Ghost Stories now on the band's official website .
Copyright 2014 ABC News Radio