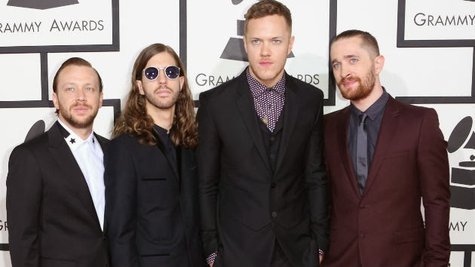 They're on tour and their hit, "Radioactive," just set a new record for the longest time spent on the Billboard Hot 100 chart. Now the guys in Imagine Dragons find themselves with a problem: lots of songs kicking around and no time to record them.
In a chat with Billboard at the South by Southwest Music Festival, Dragons frontman Dan Reynolds says, "We're still on tour right now...[so we have lots to do] before we step foot into any studio. We keep toying with the idea of taking a little bit of time off, which keeps sounding more and more appealing, but we're really bad at that."
The band discloses to Billboard that there are approximately 50 song demos done, but drummer Daniel Platzman says, "We took a long time to make sure [our current album] Night Visions was up to standard, and a lot of our favorite records growing up were that way. It's not like, 'Here's a song. Here's another song.' It's the album journey."
Reynolds called the band's new material, "definitely different. It's still Imagine Dragons, but we've got a lot of growth and maturing to do as a band."
The band members said that despite fans' wanting new material as soon as possible, they are determined to be relaxed about putting any new songs out there.
Imagine Dragons have two U.S. dates left -- Chicago on March 13 and Denver on March 15 -- before heading to South America for a few shows.
Copyright 2014 ABC News Radio