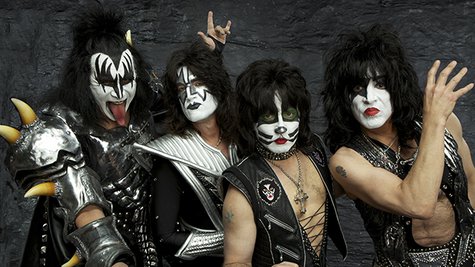 Paul Stanley has more to say about KISS' decision to not play live at the upcoming Rock and Roll Hall of Fame induction ceremony. In an interview with Billboard -- ostensibly about his upcoming biography, A Life Exposed -- Stanley calls the Hall of Fame "a distortion of a bar mitzvah," and says KISS being inducted is "a bitter pill for them to swallow, so they're making it as small as possible."
Stanley says that the Rock Hall "wanted the original four guys to play, in makeup," but adds, "honestly, I don't want to roll the dice and possibly negatively impact on what I personally have been involved in building for 40 years. I have too much invested at this point. It really is a can of worms that I feel is better off left closed."
The singer is likely referring to the drama that seems to plague KISS when the four original members -- Stanley, Gene Simmons , Peter Criss and Ace Frehley -- perform together. The band's original-lineup reunion in 1996 sparked four years of sell-out tours and the first studio album by that lineup in almost two decades, but also brought with it huge infighting about money, billing and just about everything else -- what Stanley refers to as "a lot of cloak and dagger stuff...going on behind the scenes."
For more than 10 years now, KISS has toured and recorded with Simmons and Stanley, along with hired guns Tommy Thayer on guitar and Eric Singer on drums. And both Simmons and Stanley have been vocal about wanting to continue KISS with the lower-stress, non-original configuration.
Stanley tells Billboard , "There's been a lot of issues, and perhaps the best way to deal with them is to celebrate the four original guys and go there and get our award and to look past the differences that will always be there."
Will he use the induction to voice his displeasure with the Rock and Roll Hall of Fame? Of course not, says Stanley. "There are a lot of people who are great inspirations to me, who are in the Rock and Roll Hall of Fame, and for that reason and the fact that fans want us in there, I graciously and vigorously will be there to accept the award," he declares. "We should salute and enjoy an evening that celebrates what the four of us started."
The Rock and Roll Hall of Fame induction ceremony will take place on April 10 at the Barclays Center in Brooklyn, New York.
Copyright 2014 ABC News Radio