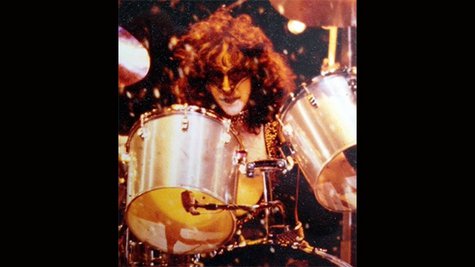 It seems like everyone's angry at KISS these days -- former original members Peter Criss and Ace Frehley are upset at being shut out of playing at the band's Rock and Roll Hall of Fame induction, the KISS Army wants to see the original four on stage, and now comes word that the family of one of the band's late members also has a bone to pick with Gene Simmons and Paul Stanley . The estate of late KISS drummer Eric Carr is suing the group for alleged unpaid royalties stemming from four songs that Carr wrote for the band -- " Breakout," "Carr Jam 1981," "Carr Jam 1991" and "Little Caesar."
The songs appeared on various KISS albums, and the Carr estate says it's due a cut of the royalties, which vary from 5 to 50 percent. They say they've been paid from one source -- ASCAP -- but were due revenues from additional sources that were kept secret from them after Carr's death in 1991. "[The family] thought they were getting it all from one source," the estate's attorney, Robert Garson , told the New York Post . Garson believes the family is owed payments from four other sources, including the current band and Gene Simmons Worldwide, Inc.
Representatives from KISS have not commented on the lawsuit.
Copyright 2014 ABC News Radio