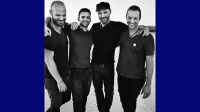 Coldplay cleared traffic -- foot and auto -- on Monday on a street in Sydney, Australia in order to shoot a video for their song "Sky Full of Stars." Well, talk about a quick turnaround: the video is now up on the band's official YouTube channel .
The clip shows Chris Martin walking down a busy street, past lots of people who clearly know that they're taking part in a Coldplay video. Martin's carrying an acoustic guitar and has a one-man band-load of instruments strapped to his person. He's singing the song as he walks down the street, stopping occasionally to sing to random people.
Martin then stops at an open lot, where he meets his band mates and they begin to play together, with fans dancing all around. Martin then leaves and continues to walk down the street, singing and playing as before, and eventually meets up with the rest of the band; they finish the song with fans singing along.
While it sounds fairly straightforward, what's particularly cool about the video is that it's obvious that everyone's aware they're being filmed. Passers-by are taking videos on their phones and smiling at Chris Martin, and you can often see production assistants on the edges, directing the flow of extras.
Coldplay has two shows left on its short tour: they're both at Royal Albert Hall in London, on July 1 and 2.
Follow @ABCNewsRadio Copyright 2014 ABC News Radio