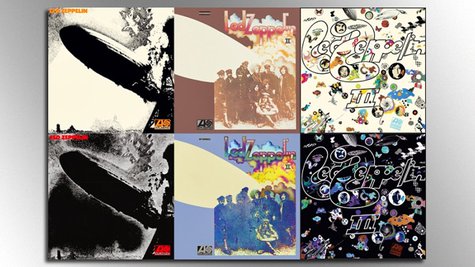 It's a day of celebration for Led Zeppelin fans across the U.S., as the expanded and remastered versions of the band's first three albums are being released in the country today. As previously reported, deluxe and super deluxe editions of Led Zeppelin , Led Zeppelin II and Led Zeppelin III will be available, each one offering a bonus disc of previously unreleased companion audio.
Led Zeppelin guitarist Jimmy Page is overseeing the campaign, which will see revamped versions all nine of the band's official studio releases be reissued over the course of the next couple of years. Speaking at a recent listening party in Paris, Page explained that he prepared the remasters "across all the various facets," including vinyl, CDs, DVD Audio, Blu-ray Audio and digital download.
He added, "We approached everything all in one go, and we even…remastered [the albums in] high-res for anything that may come in the future."
While the companion discs for most of the Led Zeppelin reissues will offer alternate takes, rough mixes, backing tracks and studio rarities, the bonus audio for the expanded editions of the band's 1969 self-titled debut is an unreleased live performance taped during an October '69 show at the Olympia music hall in Paris.
Page pointed out that the reason he used the live tracks was that Led Zeppelin didn't have much extra studio recordings from the sessions for the group's debut.
Regarding the quality of the Paris performance, Page said, "It's just really raw. The whole energy of the audience is just incredible…and it's driving us on, and we're driving them on. It's a really good communion."
Among the other interesting bonus tracks featured on the new reissues is a previously unreleased medley of the classic blues songs "Keys to the Highway" and "Trouble in Mind," which appears on Led Zeppelin III 's companion audio disc.
Page revealed that he discovered the track on the same tape that featured Led Zeppelin III 's closing track, "Hats Off to (Roy) Harper," which combines pieces of various acoustic slide blues numbers accompanying a spacey-sounding vocal by Robert Plant .
Jimmy said of the bonus tune, "The whole essence of it is…so eerie, it's haunting, and, of course, the 'Hats Off to Harper' had all this sort of material, [and] it's very haunting too." He added that as he listened to "Keys to the Highway"/"Trouble in Mind," "I thought, 'How wonderful. We can put this as the last track [on the bonus disc] to complement the 'Hats Off to Harper.'"
To find out full details about the Led Zeppelin , Led Zeppelin II and Led Zeppelin III reissues, visit LedZeppelin.com . You can also watch preview videos and teaser trailers about the releases at the band's official YouTube channel .
Follow @ABCNewsRadio Copyright 2014 ABC News Radio