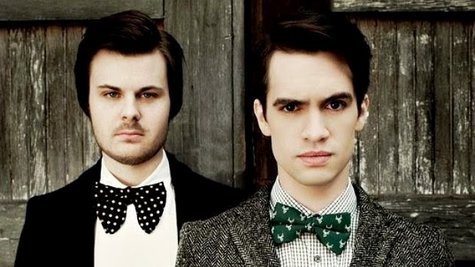 Panic! at the Disco is as tired of the Westboro Baptist Church's anti-gay hate-mongering as you probably are. And they've found a great way to turn the organization's protests against them.
When they learned that the Westboro Baptist Church was planning to picket their Sunday night show in Kansas City, Missouri, Panic! at the Disco tweeted , "For every member of WBC that actually shows up we will donate $20 to @HRC # pride2014." HRC is the Human Rights Campaign, which bills itself as the world's largest civil rights organization working to achieve LGBT equality.
As it happened, only 13 Westboro picketers showed up Sunday night. At $20 a head, that's only $260. That prompted another tweet from the band: "Thank you @WBCSays for the update on the total amount you donated to @HRC today. $20X13= weak. We're going to make it an even $1000." In addition, Panic! at the Disco said they're donating five percent of their merchandise sales to the Human Rights Campaign.
Panic! at the Disco's next tour stop is Tuesday night in Milwaukee. Check out the complete tour itinerary at PanicattheDisco.com .
Follow @ABCNewsRadio
Copyright 2014 ABC News Radio