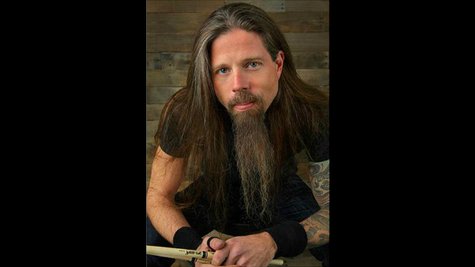 Lamb of God 's Chris Adler has found a good use for his time during the band's hiatus: the drummer announced that he's partnering with a Virginia-based resturanteur to open the Big Whiskey Grill in Richmond.
Set to open in October, the Big Whiskey Grill will offer a 700-bottle whiskey selection, 150 craft beers and a 200-bottle wine list. It will also feature two separate kitchens to accommodate people with allergies and dietary restrictions, an idea sparked by Adler's wife. "My wife has suffered from severe food allergies for her entire life and has never been able to comfortably dine out -- and she's not alone," Adler said in a statement. "I'm driven to create a safe environment for an dietary concern, choice or not."
Adler also adds that he plans to be out front at the Big Whiskey Grill. "I won't be in the back behind a purple rope holding court," he says. "I'll be behind the bar serving up the gold."
Lamb of God has been largely on hiatus since singer Randy Blythe was accused in the Czech Republic of being criminally liable for the death of a fan who had died after sustaining a head injury during the band's show in Prague. Blythe was acquitted of criminal liability in the incident in March 2013. In January, he announced on Instagram that he would not be "thinking about Lamb of God, touring, playing heavy metal, writing new Lamb of God material...for a good long while."
Follow @ABCNewsRadio
Copyright 2014 ABC News Radio