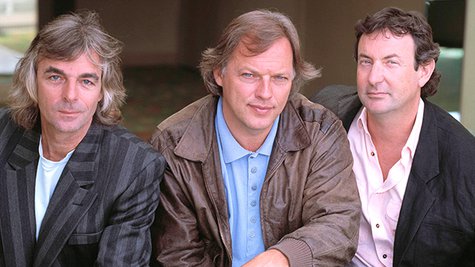 Some thrilling and unexpected news involving Pink Floyd emerged over the last few days. A new album from the band combining unreleased tracks from sessions for 1994's The Division Bell album and recent recordings done by singer/guitarist David Gilmour and drummer Nick Mason is due out in October.
The news comes from separate social media messages posted recently by Gilmour's wife, sometimes Pink Floyd lyricist Polly Samson , and Floyd and Gilmour backing vocalist Durga McBroom-Hudson .
Samson wrote a Twitter message on Saturday that reads, "Pink Floyd album out in October is called The Endless River . Based on 1994 sessions is Rick Wright 's swansong and very beautiful." Wright, Pink Floyd's founding keyboardist, died in 2008 at the age of 65 after a battle with cancer.
On the same day, McBroom-Hudson posted of photo on her Facebook page showing her and some other session singers working with Gilmour in the studio, along with a note that repeated Samson's tweet, while adding, "YES. THERE IS A NEW PINK FLOYD ALBUM COMING OUT. AND I'M ON IT. And there was much rejoicing."
McBroom-Hudson then reported additional information about the project as part of a conversation thread in response to comments and questions that followed her Facebook post.
She explained that the initial recordings for the new album started "during The Division Bell sessions," and were part of a side project called The Big Spliff about which Mason has previously written. She added that "David and Nick have gone in and done a lot more since then." She noted that the album "was originally to be a completely instrumental recording, but I came in last December and sang on a few tracks. David then expanded on my backing vocals and has done a lead on at least one of them. That's the song you see being worked on in the photo."
No official word about The Endless River has been released from the Pink Floyd camp, but that's expected to change soon.
Just last week, Pink Floyd released a 20th anniversary reissue of The Division Bell . The album was the last studio effort from the band, which featured the post- Roger Waters lineup of Gilmour, Mason and Wright.
Follow @ABCNewsRadio
Copyright 2014 ABC News Radio