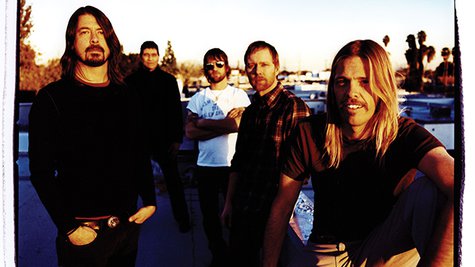 Dave Grohl says he's open to coming to play places where folks have crowdsourced the funds for a Foo Fighters concert.
In an interview with a South African radio station 5FM -- and covered by Rolling Stone -- Grohl says, "It could become the way that bands decide where they want to play. It's a fun thing; it sort of changes the game." The frontman says he's open to the possibility of becoming a band-for-hire: "For the past 20 years we always decided who we're going to play with and where we're going to play," he said. "But now, if we hear that people want us to come somewhere, maybe we'll come there."
Grohl's mind-opening came, of course, as the result of four friends from Grohl's home state of Virginia, who sold $70,000 worth of tickets to a Foos show that hadn't yet been scheduled. The friends gave it a shot because the band hadn't played Richmond since 1998 and they -- the friends -- thought a show was overdue. It worked, and as recently reported, the Foo Fighters have scheduled a show there.
Foo Fighters also talked about another place they'd just become open to playing -- South Africa, where the Foos have just scheduled two shows in December. "We've been a band for 20 years and it's time for us to start going to the places we've never been," he told 5FM. "I love all of the places that we've been, and all over the world we've built these amazing fan base audiences, but I love going to places we've never been."
The Richmond show date is expected to be announced shortly. The band is booked for one show each in South Africa's most populous cities: Cape Town on December 10 and Johannesburg on December 13.
Follow @ABCNewsRadio Copyright 2014 ABC News Radio