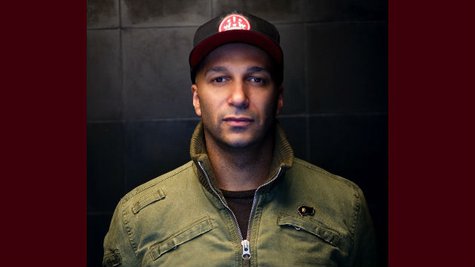 Tom Morello has written a touching tribute to the late Pete Seeger that was posted on RollingStone.com Wednesday afternoon.
Morello is currently touring with Bruce Springsteen as part of his E Street Band . They performed the civil-rights-era protest song "We Shall Overcome" in Seeger's honor at their show Tuesday night in Cape Town, South Africa, a moment that Morello calls a "tearjerker."
Morello writes, "There's a temptation to go, 'Do not weep for Pete Seeger.' But I did weep for him, because we could use 94 more years of a guy like that."
Calling Seeger a "friendly acquaintance of mine," Morello recalls collaborating with him on the song "A More Perfect Union" for Seeger's album of the same name. He adds, "Being able to stand on stage with him at the Newport Folk Festival singing 'We Shall Overcome' and 'This Land is Your Land' are moments now that I will treasure forever."
Morello goes on to praise Seeger for standing firm in his political convictions. He says he's proud, as a former member of Rage Against the Machine , to have been able to make music that aims to "affect and better the human condition," much like Seeger did and Springsteen has.
Morello concludes, "The bad news is that Pete Seeger's dead. The good news is that there's going to be one spectacular hootenanny going on in heaven when [ Woody ] Guthrie and Lead Belly reunite with their bro Pete Seeger."
Seeger died Monday at the age of 94.
Copyright 2014 ABC News Radio