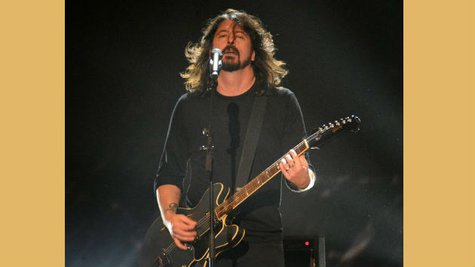 Foo Fighters frontman Dave Grohl and Imagine Dragons were among the musicians who participated in Monday's taping for the star-studded CBS special celebrating the 50th anniversary of the Beatles ' appearance on The Ed Sullivan Show.
According Billboard , Grohl teamed up with E.L.O. 's Jeff Lynne for a rendition of "Hey Bulldog," and then joined Joe Walsh of The Eagles and Gary Clark Jr. for "While My Guitar Gently Weeps." Imagine Dragons also took the stage during the event to tackle the Fab Four's "Revolution." In addition, Paul McCartney and Ringo Starr performed two Beatles songs together during the taping, and also played a number of Beatles classics separately.
You can see the show on February 9, when CBS airs The Night that Changed America: A Grammy Salute to the Beatles at 8 p.m. ET/PT. It's airing on the same night, time and network as the Beatles' original Ed Sullivan performance.
According to Billboard, here's what the artists performed during the taping, though not all these performances may make it into the final show:
Maroon 5 -- "All My Loving"
Maroon 5-- "Ticket to Ride"
John Mayer and Keith Urban -- "Don't Let Me Down"
Ed Sheeran -- "In My Life"
Alicia Keys and John Legend -- "Let it Be"
Imagine Dragons -- "Revolution"
Katy Perry -- "Yesterday"
Eurythmics -- "Fool on the Hill"
Pharrell Williams and Brad Paisley -- "Here Comes the Sun"
Dave Grohl and Jeff Lynne -- "Hey Bulldog"
Joe Walsh and Jeff Lynne -- "Something"
Gary Clark Jr., Walsh and Grohl -- "While My Guitar Gently Weeps"
Stevie Wonder -- "We Can Work It Out"
Ringo Starr -- "Match Box," "Boys," "Yellow Submarine"
Paul McCartney -- "Magical Mystery Tour," "Birthday," "Get Back," "I Saw Her Standing There," "Sgt. Pepper's Lonely Hearts Club Band"
McCartney and Starr -- "With a Little Help From My Friends"
McCartney, Starr and ensemble -- "Hey Jude"
Copyright 2014 ABC News Radio