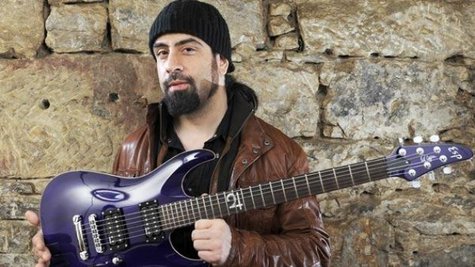 Rob Caggiano was overwhelmed to learn he has double the chances of taking home the Grammy for Best Metal Performance this weekend. The guitarist -- who's nominated for both "Room 24" with Volbeat and Anthrax 's cover of AC/DC 's "T.N.T." -- says he's proud to be in same category with both groups.
"To say I was beyond thrilled would be a major understatement," he writes in a letter to Grammy.com about his nominations. "On Volbeat's 'Room 24' I got to work with one of my biggest inspirations in the world of heavy metal: the legendary King Diamond ! It was a dream to work with him and I think his performance on that track is absolutely outstanding."
Caggiano adds covering AC/DC with Anthrax was especially exciting for him, because of the band's impact on him when he was growing up. "Not only is Angus Young my favorite lead guitar player (along with Eddie Van Halen ), but AC/DC were the first band I ever got into as a kid," he notes. "It was a huge challenge and a helluva lot of fun trying to capture Angus' spirit while still making an attempt to put my own stamp on such a classic song."
Volbeat and Anthrax will face off against Black Sabbath 's "God Is Dead?," Dream Theater 's "The Enemy Inside," and Killswitch Engage 's "In Due Time" for the trophy for Best Metal Performance this Sunday. You can tune in to see who wins the Grammy at 8 p.m. ET on CBS.
Copyright 2014 ABC News Radio