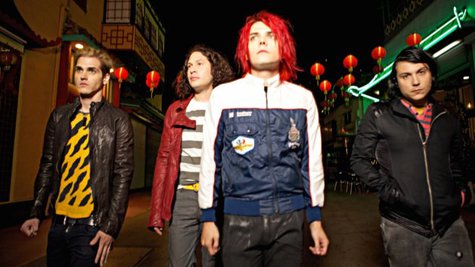 My Chemical Romance has issued its final song.
Despite its title, "Fake Your Death" wasn't initially written as a eulogy for the band, which announced last March that it would be breaking up after 12 years. But last month, when it was announced the single would appear on an upcoming greatest hits package, singer Gerard Way took to Twittter to say that he "should have known it from the lyrics."
Now fans can hear the song. It provides the soundtrack for a trailer video, posted on My Chem's website, for May Death Never Stop You: The Greatest Hits 2001-2013.
"I choose defeat, I walk away/And leave this place the same today," Way sings on the piano-driven track. The song accompanies a montage of footage from the band's videos, dating back to the group's first hit,"I'm Not Okay (I Promise)."
May Death Never Stop You will be released March 25 and will include "Fake Your Death," as well as 17 additional songs from the band's catalog,as well as three demos.
Copyright 2014 ABC News Radio