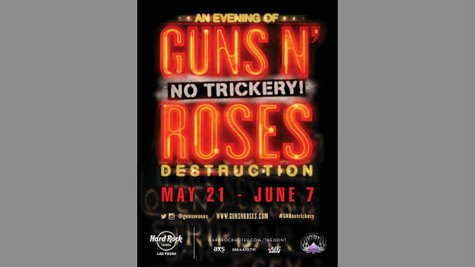 Guns N' Roses has lined up a second Las Vegas residency that will take place during the late spring at The Joint at the Hard Rock Hotel & Casino. The band's new Sin City stand is dubbed No Trickery! An Evening of Destruction , and is scheduled to feature nine performances, running from May 21 through June 7.
The shows will feature a brand-new production celebrating Guns N' Roses storied career that will include an electrifying pyrotechnic display. The band will play a mix of classic hits and various fan favorites from its catalog during the gigs. Tickets for the Vegas concerts will go on sale to the general public on Friday at 10 a.m. local time. Members of GN'R's Nightrain fan club can purchase pre-sale tickets and VIP tickets now at GunsNRoses.com.
In addition to the Las Vegas dates, Guns N' Roses' U.S. tour schedule includes a just-announced May 13 show in Bethlehem, Pennsylvania, and a previously reported May 16 appearance at the Rock on the Range Festival in Columbus, Ohio. First up for the band, however is a Latin American trek that will run from a March 16 concert in Mexico City through an April 12 performance in La Paz, Bolivia.
Guns N' Roses first Las Vegas residency, which also was held at The Joint, was called Appetite for Democracy and ran from late October to late November in 2012.
Here are all of Guns N' Roses upcoming U.S. concerts:
5/13 -- Bethlehem, PA, Sands Bethlehem Event Center
5/16 -- Columbus, OH, Columbus Crew Stadium
5/21, 24, 25, 28, 30, 31 and 6/4, 6, 7 -- Las Vegas, NV, The Joint at the Hard Rock Hotel & Casino
Copyright 2014 ABC News Radio