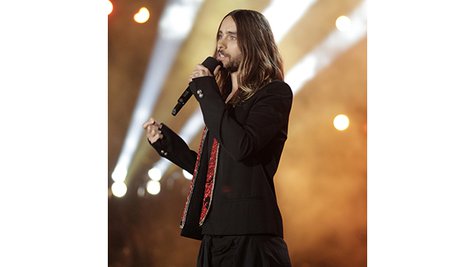 You don't hear rockers often waxing poetic about their mothers, but that's just what 30 Seconds to Mars frontman Jared Leto is likely to do if he's lucky enough to stand on stage at this year's Academy Awards.
Leto is nominated for Best Supporting Actor for his role in The Dallas Buyers Club , and at the Academy's annual nominees' luncheon in Los Angeles this week, Leto credited his success to his mom. "We were born very poor into very humble surroundings and my mother always wanted to do something better with her life. She wanted to do something better for her children," he said. "She taught me to dream and then to do the work it takes to make dreams a reality."
Leto went on to say that the best part of having an opportunity to speak at events is "to be able to thank the people that have believed in you for so long, and of course I could spend every single one of these events thanking my mom."
The Academy Awards will be broadcast live on March 2 at 7 p.m. ET/4 p.m. PT on ABC.
Copyright 2014 ABC News Radio