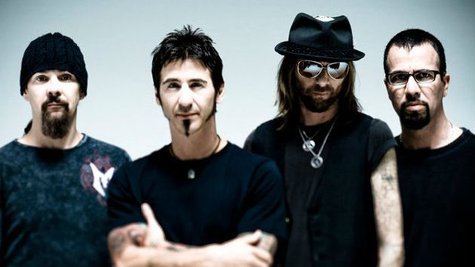 It seems like having their own recording studio to work in has been inspirational for the members of Godsmack .
Drummer Shannon Larkin posted a message on the band's website, updating fans on the progress the band has made since it recently moved into its own studio outside of Boston.
"We wrote a bunch of new songs in Florida while our new HQ was being built in New England. Now here we are outside of Boston in a kick ass studio surrounded by Godsmack vibes and creating like maniacs!" he writes. "So many cool new tunes that I can tell ya it's gonna be hard to narrow these down to the best ones! I can't give anything away at this point, but wanted to let you real fans know that we are DEEP into this and feeling great about positive attitudes and massive progress!"
Frontman Sully Erna echoed the sentiments on Twitter , writing, "This band is on FIRE lately! Finished 11 songs in two weeks so far."

No word on a release date for the new material, but the band posted five photos of the new studio on its website, and promises that additional images from photographer Paris Visone will be added weekly.
Copyright 2014 ABC News Radio