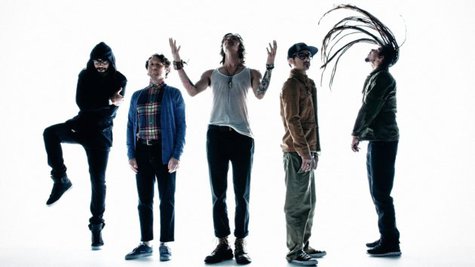 Plenty of teenagers in the '90s grew up on the music of Incubus , but you might be surprised to learn that pop superstar Katy Perry was one of them -- or at least, she tried to be one of them.
Perry recently told GQ magazine that the band's 1999 double-platinum album, Make Yourself , was the first CD she ever bought, but her purchase didn't work out so well. The singer was 15 when Make Yourself released, and was nervous about bringing the disc home because she knew her deeply religious parents, who were both Pentecostal pastors, would disapprove.
As Perry tells GQ, "I brought it home at the bottom of my knapsack, with stuff on top of it. My parents never searched my bag, but my mom has got a pretty good intuition and a great connection with God, so I thought: she's going to know something's up. So I remember going up to my room, I put my comforter in the crack of the door to make it hard to get in."
But despite all her preparation, her attempt to listen to forbidden music ended in disaster. As Perry recalls, "I opened it up and tried to pull the CD out and it breaks in two like the Ten Commandments. And I was like, 'Maybe this is a sign. I should never be listening to this music.'"
Incubus isn't the only rock band that Katy Perry likes: she credits Queen with being one of her biggest musical inspirations. In fact, last year, she came out with a perfume called Killer Queen.
Copyright 2014 ABC News Radio