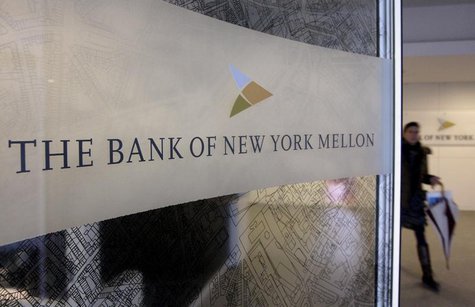 By Tim McLaughlin
BOSTON (Reuters) - BNY Mellon Corp's investment management chief Curtis Arledge is on the hot seat.
More than three years after the world's largest custody bank paid big money to bring him in to remake its asset management business, with a particular emphasis on pulling in more Main Street investors to its Dreyfus funds arm, the strategy has yet to pay off.
That slow start has drawn increasing criticism from Wall Street analysts who ask whether the bank is being run competitively. Investors have watched it lose ground to more retail-focused rivals, with its stock price lagging them badly.
Arledge himself acknowledged on Wednesday that BNY Mellon is only in the early stages of a two-pronged strategy to gather assets from individual retail investors, but he pledged that the strategy will show tangible progress by this summer. In an interview, he described the business as a "gigantic" growth opportunity.
Assets from retail investors can be more volatile, but they are growing faster and promise higher profit margins, analysts say.
The need for a catalyst is clear. BNY Mellon has lagged its main rival, Boston-based State Street Corp. , and the broader S&P 500 index since the depths of the financial crisis: Its shares are up only 96 percent since early March 2009, compared with State Street's 294 percent and the S&P's 179 percent.

>

State Street also has narrowed the gap with BNY Mellon's global-leading $27.6 trillion in assets under custody and administration. That gap is now only $200 billion from $3.3 trillion in 2011.

State Street has grown its exposure to retail investors through its stable of exchange-traded funds. Its ETF business alone totals about $400 billion in assets, with retail investors fueling a 5-year compound annual growth rate of 18 percent.

In contrast, BNY Mellon's top retail brand, Dreyfus, suffers from years of slack investment, Arledge said. He said the distribution platform for Dreyfus wasn't expanded, which meant that the funds weren't marketed to enough individual investors.

SLIPPING

Dreyfus forms just a small part of BNY Mellon, some $290 billion in mutual funds and separately managed accounts out of the broader bank's $1.6 trillion under management. And it is ranked 37th by assets in the United States among mutual fund families, slipping from 25th in 2005 and 34th in 2010, according to Morningstar.

"Dreyfus shouldn't be 37th," Arledge said. "It is not where it should be."

Dreyfus mutual fund assets under management increased $8 billion to $61 billion in 2013, but its market share slipped to 0.55 percent from 0.58 percent, Morningstar said.

Arledge said that as BNY Mellon rolls out its retail strategy, Dreyfus will become a key factor in gathering assets from individuals around the globe. It can open the door to the 16 boutique asset management shops that operate under BNY Mellon's umbrella, he said. That strategy has worked for the bank's strong base of institutional clients such as pension funds.

The Dreyfus Mid-Cap Growth Fund , for example, is managed by Boston Company Asset Management, one of BNY Mellon's boutique firms. BNY Mellon plans to expand the retail distribution of that Dreyfus fund and others by investing more in its relationships with major Wall Street firms, retail brokerage platforms and registered investment advisors.

BNY Mellon also has expanded its wealth management sales force to increase its exposure to top markets such as Los Angeles, San Diego and Seattle, for example.

"It's always been on my mind that we have great retail capabilities," Arledge said. "We have spent a lot of time thinking about what the appropriate way would be to do it."

Asked if he's feeling pressure to make BNY Mellon's retail strategy work, Arledge said: "I'm not focused on the pressure element, but I know we have to deliver."

EARNED MORE THAN CEO

Arledge is the high-priced talent BNY Mellon lured from BlackRock Inc in October 2010 with a sign-on package that included $17 million in bonus and stock-based awards.

Arledge was the chief investment officer for BlackRock's fundamental fixed income portfolios. He was a senior member of a team that more than doubled fixed income assets to $1.14 trillion between 2008 and 2010.

Over the past three years at BNY Mellon, Arledge has had compensation of $42.4 million, or $10 million more than BNY Mellon's CEO Gerald Hassell, excluding changes in pension plan values, proxy statements show.

Under Arledge's supervision, the investment division has been accumulating assets steadily - mainly from institutional investors - with $95 billion in net long-term flows in 2013. But the division's pre-tax profit margin of around 30 percent lags rivals by at least several percentage points, according to Bernstein Research analyst Luke Montgomery.

At Dreyfus, its mutual funds had $289 million in outflows in 2013. And the average Dreyfus fund beat only 48 percent of its peers last year, according to Lipper data.

More broadly, Wall Street analysts have become increasingly strident in their criticism of BNY Mellon in recent months. CLSA Securities analyst Mike Mayo, for example, said in a February report titled "Restructure this Bank?" that BNY has the worst pre-tax profit margin among its peer group and the asset management arm would be more valuable if it were spun off from the custody bank.

Arledge's effort to win new assets from retail investors has had a skeptical reception. Many of BNY Mellon's investment boutiques, for example, don't have any track record of attracting retail investor assets, analysts said.

Arledge partly agreed. "A number don't participate (in the retail market) in the way that they could," he said.

Out of 21 analysts polled, only 7 have a "Buy" rating For BNY Mellon, 11 have a "Hold" and three have a "Sell" rating, according to Thomson Reuters data.

Meanwhile, cost-cutting efforts by Hassell are failing to help the bottom line as much as analysts would like. Hassell's hope is that Arledge and his investment management division will become the major driver of growth for the entire bank.

"BNY Mellon is desperate for growth," said Erin Davis, a stock analyst at Morningstar Inc.

(Reporting By Tim McLaughlin; Editing by Richard Valdmanis, Linda Stern, Martin Howell)