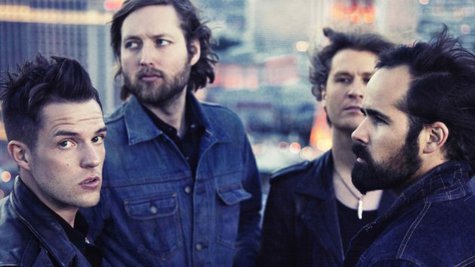 The Killers have unveiled the video for "Shot at the Night," a brand-new track that'll be featured on the group's upcoming greatest hits compilation, Direct Hits .
The four-minute clip chronicles the love story between a maid at posh Las Vegas hotel, played by Dark Shadows actress Bella Heathcote , and one of the hotel's guests, played by The Social Network actor Max Minghella . After running into each other in the hallway, the maid ditches her night job at the hotel to go on a date with Minghella's character. The pair cruise the Vegas Strip, hit the roulette tables, sing karaoke and attend a wedding officiated by an Elvis Presley impersonator before sharing a kiss on a rooftop at sunrise.
"Shot at the Night," which was recorded with M83 's Anthony Gonzales , is now available for purchase at iTunes. Another new cut, "Just Another Girl," will also be featured on Directs Hits , which arrives in stores on November 11.
In addition, a deluxe edition of Direct Hits will features three bonus tracks: the original demo of "Mr. Brightside," a Calvin Harris remix of "When You Were Young," and "Be Still," from 2012's Battle Born . A "Fan Deluxe Edition" will also be offered that features the deluxe CD, a DVD that contains a new documentary about the group's career, and five 10-inch vinyl records featuring all the songs from Direct Hits .
Copyright 2013 ABC News Radio