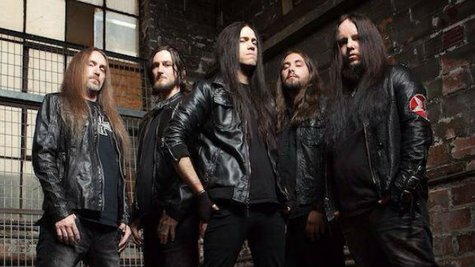 Can't wait to hear the self-titled debut album of Slipknot drummer Joey Jordison 's side project, Scar the Martyr ? No worries. The guys have posted a stream of every song from the release on their official website .
Scar the Martyr features 14 new tracks and will arrive in stores on October 1. In addition to a standard release, the group will drop a deluxe edition, which features bonus tracks "Flatline & Fracture," "Digging for Truth," "Coat of Arms" and "Complications."
Scar the Martyr is currently trekking across North America promoting the release. The band will perform at The Riot Room in Kansas City, MO on Friday and at Juanita's in Little Rock, AR on Saturday. Head over to ScarTheMartyr.com for the full list of dates.
Here's the track list for Scar the Martyr :
"Intro"
"Blood Host"
"My Retribution"
"Soul Disintegration"
"Cruel Ocean"
"Dark Ages"
"Sign of the Omeneye"
"Anatomy of Erinyes"
"Prayer for Prey"
"White Nights in a Day Room"
"Effigy Unborn"
"Never Forgive Never Forget"
"Mind's Eye"
"Last Night on Earth"
"Flatline & Fracture" (deluxe edition only)
"Digging for Truth" (deluxe edition only)
"Coat of Arms" (deluxe edition only)
"Complications" (deluxe edition only)
Copyright 2013 ABC News Radio