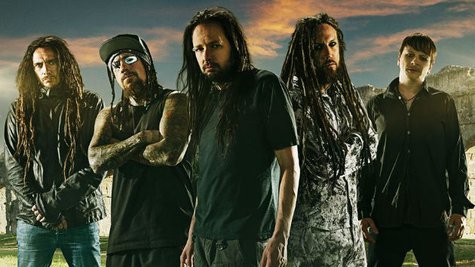 Korn will join rock royalty on Guitar Center's RockWalk next month. The band will be inducted into the music retailer's RockWalk during an invitation-only event on October 8 at noon in Hollywood, CA, the same day their new album, The Paradigm Shift , arrives in stores.
"When we started out we were five guys in a garage with a dream," says guitarist James "Munky" Shaffer in a statement. "I'd like to think we tried our best to create some great music and an innovative sound but to be honest we are truly humbled to be included here." Frontman Jonathan Davis adds, "When you look at the names of the other people inducted here all you can say is 'wow!' What an honor!"
Guitar Center's RockWalk, inaugurated in 1985, is located on Sunset Boulevard. Each year's inductees are chosen by past honorees. Among the many previous inductees into the RockWalk are Rush , Led Zeppelin 's Jimmy Page , Aerosmith , Van Halen , Iron Maiden , AC/DC , among others.
Copyright 2013 ABC News Radio