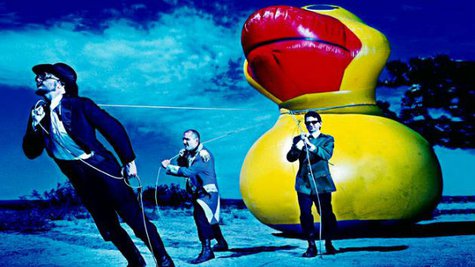 Good news for Primus fans: drummer Tim "Herb" Alexander will rejoin the band for a series of concerts next year. Frontman Les Claypool revealed that Alexander will be taking over for drummer Jay Lane , who will be hitting the road with Bob Weir & RatDog in 2014.
"[RatDog's upcoming schedule] was conflicting with some stuff that we were doing, and so he opted to go with Bob and RatDog over the Primus stuff," Claypool tells Rolling Stone . "Just coincidentally, Herb had been peeking out of the woods and wanting to play again…so we've been talking, and it seems like he's in a much better space now than he had been in the past. He's got a little girl now and it just seems like he's excited about playing drums again, which I hadn't seen that from him in many years."
While Primus has yet to announce the dates for the upcoming tour featuring Alexander behind the drum kit, Claypool says the next stop for the newly-reunited trio is to hit a recording studio. "We're talking about going into the studio in November," he says. "If we get together and things are just flowing like crazy, then I'm sure we're going to hop right in the studio. If not, then…we'll be calling Alex Van Halen ."
Primus' last album to feature Alexander was 1995's Tales from the Punchbowl , which included their breakout hit, "Wynona's Big Brown Beaver." That album peaked at #8 on the Billboard 200 albums chart, and received a gold certification by the Recording Industry of America on July 20, 1995 for selling more than 500,000 copies.
Copyright 2013 ABC News Radio