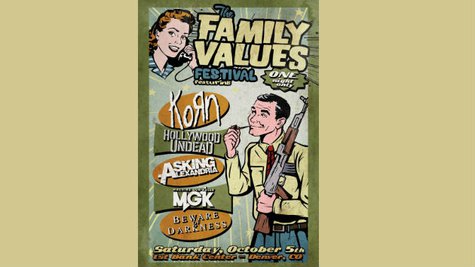 We have guitarist Brian "Head" Welch to thank for the upcoming edition of Korn 's Family Values Tour. Frontman Jonathan Davis says the group's recent reunion with Welch was inspiration behind bringing back the event, which takes place on October 5 at the 1st Bank Center in Denver, CO.
"Head came back to the band, and it seemed like the right time," Davis tells ARTISTDirect . "We always wanted to do it as more of a one-day festival than the old school runs we used to do. We're really excited about doing it."
In addition to a headlining set by Korn, the event will include performances by Hollywood Undead and Asking Alexandria , two groups Davis admires. "We've had a lot of fun touring and playing with Hollywood Undead so we had them come on with us," he explains. "We're getting ready to do some dates with Asking Alexandria, so we thought they would be perfect."
Korn's Family Values Tour originally launched in 1998 and featured additional runs in 1999, 2001, 2006 and 2007. Over the years, the tour featured a variety of rock and hip-hop acts, including Limp Bizkit , Linkin Park , Evanescence , Ja Rule , Method Man , Redman and DMX , among others.
Copyright 2013 ABC News Radio