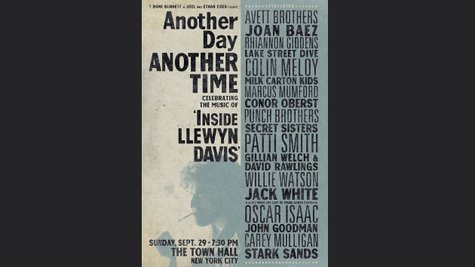 If you couldn't score a ticket to see Sunday's benefit concert at Town Hall in New York City to promote the upcoming Coen brothers film Inside Llewyn Davis , don't worry: Showtime has announced they'll be premiering a broadcast of the show on December 13 at 9 p.m. ET/PT.
Dubbed " Another Day, Another Time: Celebrating the Music of Inside Llewyn Davis ," the event will feature Jack White , Mumford & Sons frontman Marcus Mumford and Colin Meloy of The Decemberists performing cuts from the film's soundtrack, as well as songs from the 1960s era that inspired it.
Other artists set to take the stage for the concert include the Punch Brothers , The Avett Brothers , Conor Oberst and Patti Smith , as well as actors Oscar Isaac , John Goodman and Mumford's wife, Carey Mulligan , who appear in the flick.
Proceeds from the upcoming concert will go to the National Recording Preservation Foundation , a non-profit organization affiliated with the Library of Congress, to help preserve America's recorded sound history.
According to IMDb.com , Inside Llewyn Davis is about "a singer-songwriter [who] navigates New York's folk music scene during the 1960s." The soundtrack for Inside Llewyn Davis is available in stores now, while the film is expected to arrive in theaters on December 6.
Copyright 2013 ABC News Radio