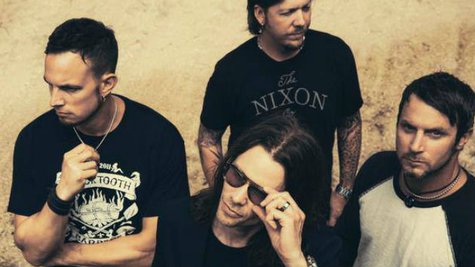 Alter Bridge 's new single, "Addicted to Pain," was instrumental in the development of the band's sound for their new album. Frontman Myles Kennedy says getting the track recorded early gave the band the freedom to engage in a fair amount of musical experimentation on the rest of their upcoming fourth album, Fortress .
"Once we had that song in the can we knew that we didn't have to stress about writing a first single," he tells ABC News Radio. "What it allowed us to do, once we knocked that out early, is to experiment more and be more adventurous with the arrangements and not be afraid of a seven-minute song."
Kennedy adds that the song was inspired by watching those around him being involved in unhealthy relationships. "I guess I put myself in their shoes…I would be gone," he explains. "Often times it's easier to step back and look at something like that and assume that you'd do that. The reality is that when you're in the thick of it, your judgment is clouded by a number of different things so you, you stay in that toxic, unhealthy relationship or whatever it is. So it's frustrating to see that, to be on the other side of that."
Fortress will arrive in stores on October 8.
Copyright 2013 ABC News Radio