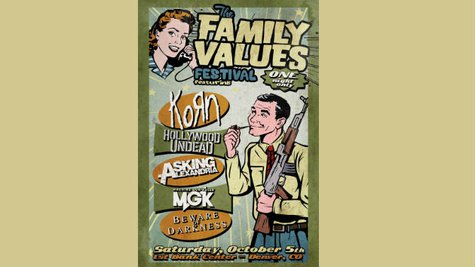 Korn has announced that they'll be bringing back their Family Values Tour next month, for one night only. The band revealed the good news via their Facebook page, posting a photo of the poster for the event , which takes place on October 5 at the 1st Bank Center in Denver, CO.
In addition to a headlining set by Korn, the event will include performances by Hollywood Undead , Asking Alexandria , Machine Gun Kelly and Beware of Darkness .
Korn's Family Values Tour originally launched in 1998 and featured additional runs in 1999, 2001, 2006 and 2007. Over the years, the tour featured a variety of rock and hip hop acts, including Limp Bizkit , Linkin Park , Evanescence , Ja Rule , Method Man , Redman and DMX , among others.
Copyright 2013 ABC News Radio