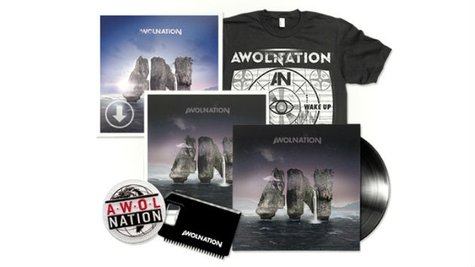 Following up the success of their debut album, 2011's Megalithic Symphony , AWOLNATION will be releasing a deluxe version of the album, in various configurations, next month.
The upcoming two-CD set boasts 32 tracks, including new cuts "THISKIDSNOTALRIGHT," "Some Kind of Joke" and "Everybody's Got a Secret," as well as a number of B-sides, rarities and remixes. Depending upon which version of the deluxe album you buy, you can score a variety of other goodies including an embroidered patch, a custom surf wax comb, an exclusive t-shirt, a signed lithograph and a limited-edition vinyl copy of the release.
The Megalithic Symphony deluxe editions will arrive at all the usual outlets on November 19. You can check out the different deluxe versions and pre-order your copy now at Bompa.com .
Here is the track list:

CD 1
"Megalithic Symphony"
"Some Sort of Creature"
"Soul Wars"
"People"
"Jump on My Shoulders"
"Burn it Down"
"Guilty Filthy Soul"
"Kill Your Heroes"
"My Nightmare's Dream"
"Sail"
"Wake Up"
"Not Your Fault"
"All I Need"
"Knights of Shame"

CD 2
"THISKIDSNOTALRIGHT"
"Some Kind of Joke"
"Everybody's Got a Secret"
"Soul Wars" (Live in Salzburg, Austria)
"MF"
"Swinging from the Castles"
"I've Been Dreaming"
"Shoestrings"
"Not Your Fault" (Robert DeLong Remix)
"People" (Thomas From Ghostland Observatory Remix)
"Burn it Down" (Innerpartysystem Remix)
"Guilty Filthy Soul" (Samantha Ronson Remix featuring Wale)
"Jump on My Shoulders" (Thomas from Ghostland Observatory Remix)
"Sail" (Borgore Pop Remix)
"Sail" (Dan The Automator Remix)
"Sail" (Feed Me Remix)
"Sail" (TDE Remix Featuring Kendrick Lamar & Ab Soul)
"Sail" (Unlimited Gravity Remix)
Copyright 2013 ABC News Radio