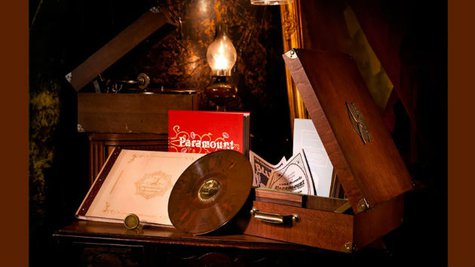 Next month, Jack White 's Third Man Records will release a massive box set which includes around 100 sides from the now-defunct record label Paramount Records, best known for its recordings of African-American jazz and blues in the 1920s and early 1930s. Titled The Rise and Fall of Paramount Records, Volume One (1917-1927) , the package runs $400 and is limited to 5,000 copies.
While the ex- White Stripes singer says he'll need to sell about 4,000 of the sets to cover the production costs, he's not looking to make money off the project. "Everything we do, it's never to make a dollar," he tells Rolling Stone . "It's always to make something exist. And we end up paying the bills that way, because other people want to experience those things too."
White adds the music recorded by Paramount Records captures the evolution of a "whole story of American culture" and shouldn't be dismissed. "It's every idea you can imagine -- a forgotten artist no one cares about, mixed with a failing business, then the Great Depression, the materials people used to build things," he explains.
The Rise and Fall of Paramount Records, Volume One (1917-1927) will be available starting November 19, but you'll be able to pre-order the set at Third Man Records on Tuesday. A second volume of releases from Paramount Records will be released sometime next year.
Copyright 2013 ABC News Radio