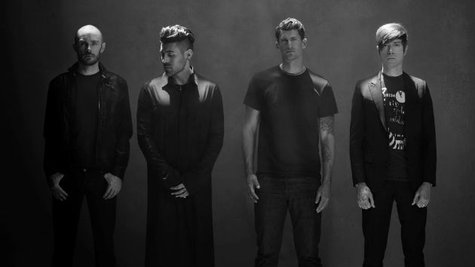 You won't need to search for any hidden meanings in the lyrics of AFI 's ninth studio album, Burials . Frontman Davey Havok says all the songs on the release deal with a variety of dark and negative themes, which he feels are self-explanatory.
"It's all very direct and very personal, it's very candid," he tells ABC News Radio. "I think if you listen to the record it's very clear what each of the songs are pointing towards. You know, beyond that I hope that people will be able to apply it to themselves in some way that they see fit and perhaps feel some sort of connection by way of their own experiences."
Our first introduction to Burials is the popular single "17 Crimes," which Havok says he felt a strong connection to the instant the band put it together. "We wrote that song in a very, very short period of time," he explains. "It took us about 15-20 minutes. It felt like it was already existed, it felt like we had just played something that we'd already known. When we demoed it, it sounded right, it sounded perfect in my mind almost immediately and I felt, 'Oh this has to make it and it should be a single.'"
AFI is currently on the road promoting Burials . The band's North American trek hits the West Coast this week with shows at the Henry Fonda Theatre in Los Angeles, CA, on Tuesday; the House of Blues in San Diego on Wednesday; the Fox Theater in Pomona, CA, on Friday; and the House of Blues in Las Vegas, NV, on Saturday. Visit AFireInside.net to view the full itinerary.
Copyright 2013 ABC News Radio