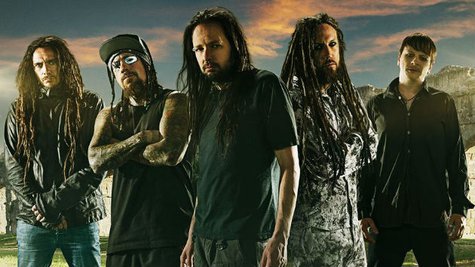 Korn is offering you the chance to win some cool prizes by promoting "Never Never," the first single from the group's recently released album, The Paradigm Shift .
The group has partnered with Gigg for a new contest where fans can show their love of the track by sharing its lyrics, and adding creative hashtags which express their thoughts about its meaning. To enter the competition you'll need to post your entry via the Gigg mobile app, which is available for free on iTunes and the Android Market.
"People love to express themselves with music," says Gigg CEO Scott Warner in a statement. "This contest will give Korn fans a great way to add their own style to the song, while introducing a whole new group of fans to the band's unique and amazing talent. I'm a big fan of Korn and excited to see all the creative posts that will show up this week in our app."
The winner of the contest will receive two tickets to a Korn concert of their choice, a signed deluxe edition of The Paradigm Shift , a merchandise pack featuring posters and stickers, plus a ten-minute Skype call with a member of the band.
Submissions for the contest are open from now until November 15. Check out the particulars at Gigg.com .
Copyright 2013 ABC News Radio