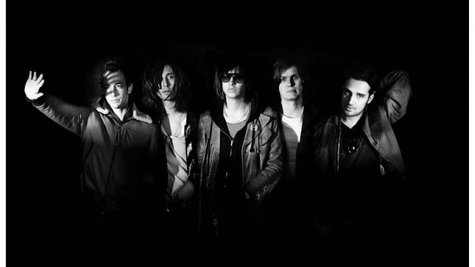 The Strokes got fans excited when the band recently sent out an email newsletter in which they noted the group is "toiling and writing, looking at 2014 for a return to the scene." Now guitarist Albert Hammond Jr. is adding some clarification, saying that while the group does have plans to reunite at some point, fans shouldn't expect to get new music anytime soon.
"We don't know anything yet," he tells Billboard . "There's no news or information. We're not writing or doing anything -- maybe individually we are, but it's not like we're in the studio or anything."
While we wait for new music from the guys, Hammond adds he's keeping busy working on more new solo tracks to follow up his recently-released EP, AHJ . "I like the idea of putting out two or three EPs a year, which is easier because I don't have to tour for eight months, come home and work for eight months on a record and then tour again," he explains. "This way you can kind of tour a little bit, come home, record a few songs, put them out, go back on tour for a little bit, come home, do a few more songs, put 'em out...I feel like creating-wise, I'll grow quicker that way."
The guitarist will promote AHJ with a North American tour, which kicks off on November 3 at the U Street Music Hall in Washington, D.C. Visit AlbertHammondJr.com to view the full itinerary.
Copyright 2013 ABC News Radio