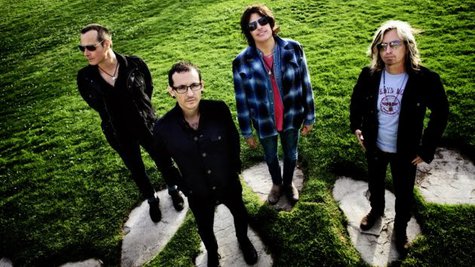 Choosing the replacement for former Stone Temple Pilots frontman Scott Weiland may seem like a daunting task, but for Dean DeLeo , it was an easy decision. The guitarist says Linkin Park frontman Chester Bennington was his only choice to be the group's new lead singer.
"It wasn't even discussed," he tells ABC News Radio. "I brought up Chester's name, we reached out to him. There was no one else's name on the table, this belonged to him. It really did."
DeLeo says that Bennington's vocal range was one of the main reasons he was chosen for the job, especially since the guys want to perform a wide variety of career-spanning tracks during their concerts. "I knew there was a lot of songs in our catalog that we were unable to play anymore just because of Scott's range that Chester would just be able to…really, really do justice to," he explains. "I also knew how creative and talented the guy was."
Stone Temple Pilots with Chester Bennington put out their debut EP, High Rise , last week. DeLeo says he was hoping to put out a full-length album for their first release, but Bennington's schedule didn't allow for it. "To write and record 10 or 12 songs is gonna take about six weeks," he notes. "We didn't have it. We only had about three or four, so you gotta really manage the time that you have, especially with Chester's other job. If we had six or eight or ten weeks we would have done a full album, but we didn't."
According to the industry website Hits Daily Double , High Rise is likely to debut in the #11 slot on the Billboard 200 albums chart, selling 13,000 to 15,000 copies. The Billboard 200 chart's top 10 will be released on Wednesday.
Copyright 2013 ABC News Radio