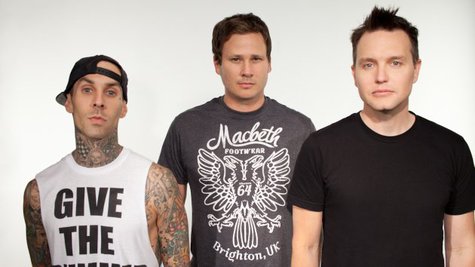 Mark Hoppus is hoping his Blink-182 band mates will be willing to engage in some musical experimentation on their next studio album. The bassist says while he was happy with the material the band put out on 2011's Neighborhoods , he's hoping the guys aim for something different on their next studio album.
"For me, personally, obviously we still have to get into the studio and hash everything out, but I want to push it edgier," Hoppus tells Absolute Punk . "I want to push it a little faster, a little harder. I want to still do rad experimental stuff, but I want it to be more edgy."
Mark adds the guys have created a list of six producers with whom they're interested in working, noting they're open to having more than one producer work on tracks for the release.
"We want to have different people come in and out of the studio for different vibes," he explains. "Not necessarily to use one producer for the whole thing, although we're definitely open to that option, but maybe working with three or four throughout the course of the album for songs with different tempos and different moods."
Blink-182 says they hope to release their seventh studio album sometime in 2014.
Copyright 2013 ABC News Radio