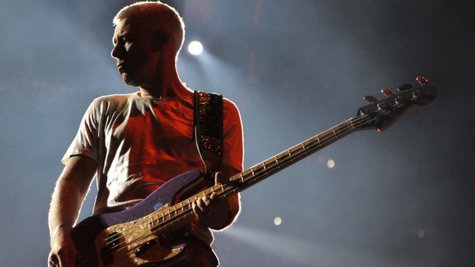 We may not have to wait too much longer to get our hands on U2 's follow-up to 2009's No Line on the Horizon . Bassist Adam Clayton reveals in a recent interview on Irish radio that he and his band mates currently are in the studio working on the new album and "hope to have it finished very, very soon."
As for when U2 plans to release its latest collection of tunes, Clayton says, "Sometime early next year."
The 53-year-old Rock and Roll Hall of Famer adds that the album is "a very exciting bunch of songs right at the moment," that should please fans of both U2's early work and its more recent material.
"There's a bit of a return to U2 of old, but with the maturity, if you like, of the U2 of the last 10 years," Clayton explains. "It's a combination of those two things and it's a really interesting hybrid."
Getting a little more specific about the status of the new project, Clayton says, "We're trying to get these 12 songs absolutely right and get them finished by the end of November, and then we can kind of enjoy Christmas."
Meanwhile, Adam, who got married in early September to Brazilian model Mariana Teixeira , jokingly admits that U2's focus on the record may be putting a little strain on his relationship.

"I think I've been married about a month now and I've seen my wife for two weeks of that," he declares. "It's not a very good start but those two weeks were a great two weeks."
U2 apparently is back in New York City working on the album at Electric Lady Studios. On October 1, celebrity chef Mario Batali posted a photo on his Twitter account of U2's The Edge and himself hanging at the studio. In addition, Batali commented on the sound of the group's new music and reported that producer Danger Mouse was on hand. U2 and Danger Mouse also were spotted at Electric Lady in June.
Copyright 2013 ABC News Radio