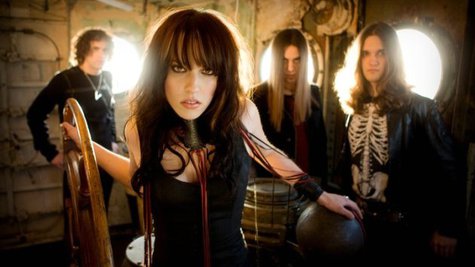 Halestorm is only a few days away from releasing their second EP of covers, ReAniMate 2.0: The CoVeRs eP , but the band is allowing fans to listen to the project ahead of the launch date. You can check out a stream of every song from the upcoming release at Blabbermouth.net .
ReAniMate 2.0: The CoVeRs eP features six tracks, including cover versions of classic cuts by Judas Priest , AC/DC and Marilyn Manson . It also boasts interpretations of hits by Daft Punk , Pat Benatar and Fleetwood Mac .
"Like our first ReAniMate EP, the songs included here are a collection of both our favorite songs and songs to challenge ourselves," says frontwoman Lzzy Hale in a statement. "We decided to go more 'bare bones' with this EP, meaning minimal production with live, gritty performances. We hope all our fans have as much fun with ReAniMate: 2.0 as we did!"
ReAniMate 2.0: The CoVeRs eP will arrive at all the usual outlets on October 15. Here's the track list:
"Dissident Aggressor" (Originally performed by Judas Priest)
"Get Lucky" (Originally performed by Daft Punk)
"Shoot to Thrill" (Originally performed by AC/DC)
"Hell Is for Children" (Originally performed by Pat Benatar)
"Gold Dust Woman" (Originally performed by Fleetwood Mac)
"1996" (Originally performed by Marilyn Manson)
Copyright 2013 ABC News Radio