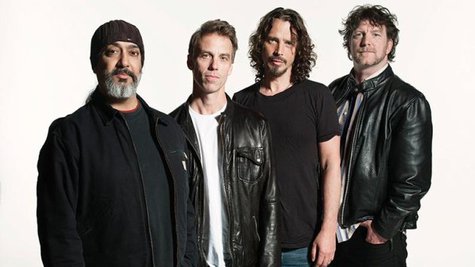 While Soundgarden hasn't made any official plans for a follow-up to 2012's King Animal , members of the band are confident they'll record a new album sometime in the future.
"We don't have plans, but we have desire and interest in making another album," guitarist Kim Thayil tells O2 Academy TV in a video interview . Drummer Matt Cameron adds he already has an idea for the upcoming release, noting he'd like the songs to feature heavier riffs. "I think we'd like to just make…a record that's more raw, you know, that maybe just kinda has a little more bite, more guitars," he explains.
While we wait for new music from the guys, the group's first record label, Sub Pop Records, has announced they'll be reissuing the band's long-out-of-print 1990 compilation Screaming Life / Fopp . The remastered set, which is comprised of Soundgarden's first two EPs, includes the original ten tracks and "Sub Pop Rock City," a cut that was originally featured on 1988's Sub Pop 200 compilation. Screaming Life / Fopp will be available at all the usual digital outlets and on vinyl starting November 26.
Copyright 2013 ABC News Radio