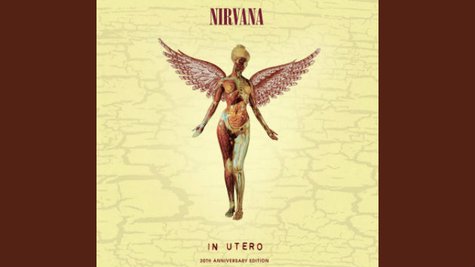 If you think you understand what Nirvana is singing about on the band's third and final studio album, In Utero , think again. Bassist Krist Novoselic says late frontman Kurt Cobain was "cagy about his lyrics," leaving them open to being interpreted in different ways.
"There is imagery on [ In Utero ] that I would never express to people," he tells Rolling Stone . "We're each entitled to our own interpretations. But none of them are the definitive one. He's the only one who can give that -- and he's gone. And he never gave one while he was alive."
In addition to writing cryptic lyrics, Novoselic notes that Cobain would often create artwork that he found perplexing. "He would cut out pictures of meat from grocery-store fliers, then paste these orchids on them," says Krist. "And all this stuff on [ In Utero ] about the body -- there was something about anatomy. You look at his art -- there are these people, and they're all weird, like mutants…and dolls -- creepy dolls."
Nirvana's 20th anniversary reissue of In Utero is available in stores now.
Copyright 2013 ABC News Radio