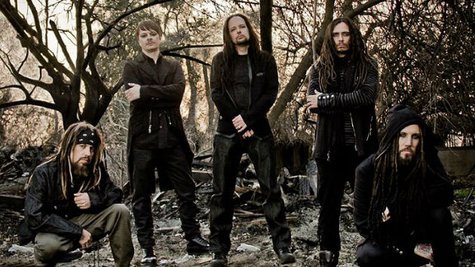 Frontman Jonathan Davis says that while Korn will continue to experiment with electronic elements on their upcoming album, it won't be anything like their 2011 dubstep album, The Path to Totality .
"It's not in a dubstep format; it's more in a rock format," he tells The Morning Call . "We never want to repeat ourselves. It's really cool -- we're just using the electronic stuff to highlight the rock, our music."
Davis adds that reuniting with founding guitarist Brian "Head" Welch has helped the guys create a new sound for the upcoming release. "It's really cool that Head's back with us," he explains. "We got [ James ] 'Munky' [ Shaffer ] and Head's dual guitar thing that they do and it's really cool that we're taking everything that we've learned since Head's been gone and putting that all together and then we make it something different."
While a release date for the new album has yet to be announced, Shaffer had previous stated that the band hopes to release it by the end of the summer.
Copyright 2013 ABC News Radio